Frequently Asked Questions
Q - Will my insurance cover the cost of windshield replacement?
A - Yes, if you have full comprehensive coverage. Your comprehensive deductible is the only out of pocket expense and in most cases is $0-$100. If your deductible is more than $100 please confirm with your agent or insurance company it is your comprehensive deductible and not your collision deductible.
Q - Who will handle billing my insurance?
A - We will handle all paperwork and billing directly with your insurance company so you don't have to. We will need you to talk to your company. All insurance companies require you, their insured to talk to them to get the date of loss ( when the break happened) where you were, time of day and that it is in fact you who is calling. Your company does this to com-bat fraud.
Q - Will windshield replacement affect my insurance rates?
A - No. Windshield replacement falls under comprehensive insurance and not collision insurance. Cracks in your windshield have do not indicate a risk to the insurance company as it does not reflect your driving ability.
Q - Will my new windshield be the same quality I have in my vehicle now?
A - Yes. We use only DOT-Certified, ISO 9000 compliant windshields for each installation.
Q - How long will it take to replace my windshield?
A - It will take approximately 1 some times 2 hours. To ensure proper curing for the urethane seal, we recommend you refrain from driving your vehicle for 2-3 hours.
Your technician will provide the best estimate of a safe drive-away time based on humidity, temperature and type of urethane and additional conditions and materials.
Q - Can you replace my windshield or auto glass when it is raining or snowing?
A - We require a dry area while working such as in a carport, garage, parking garage, etc. or any other suitably covered area, in order to provide mobile auto glass service during inclement weather. If none are available a tent will be brought.
Heavy rain or high winds may jeopardize the installation of your windshield so if you have any doubts please ask.
Q - What are the details of the Road Debris Warranty?
A - Rock Hard Windshields one year breakage warranty Free windshield replacement Unlimited free rock chip repairs Rock Hard Windshields guarantees that if your windshield is broken or damaged within 12 months from the date of installation, Rock Hard Windshields will repair or replace the wind-shield at no additional cost. This will cover glass, labor, kit and moldings for the installation. This guarantee is only redeemable one time. Unlimited rock chip repairs are included as well.
Terms & Conditions
The term of the guarantee is for one year from the original date of installation Coverage is limited to normal road hazards. Damage due to collision, intentional acts, or fraud are excluded. Dealer parts are not included.
Q - What are one of the consequences of a badly installed windshield?
A - What I see time and again are people installing windshields without painting the exposed metal after taking a windshield out. When you leave exposed metal to the weather you get rustcommon knowledge the metal needs to be painted and it sometimes does not get done. Rust under the urethane (glue) will break the seal and cause a water leak.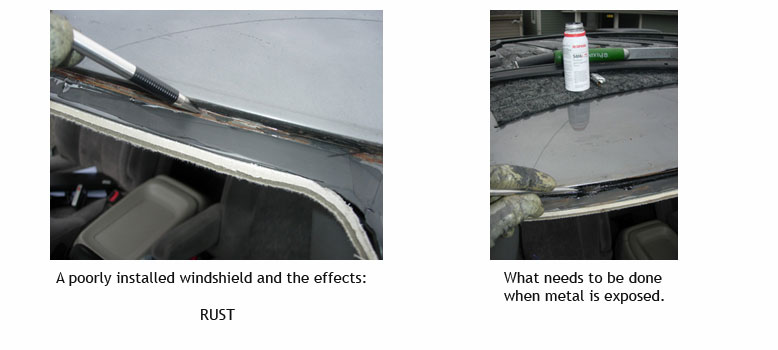 Ready to schedule a windshield replacement?
Call us at 425-438-8900.